ESSENCE Interior
Product code:6000
more >> Essence >>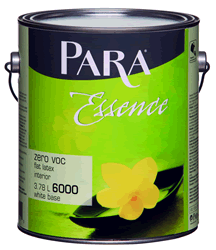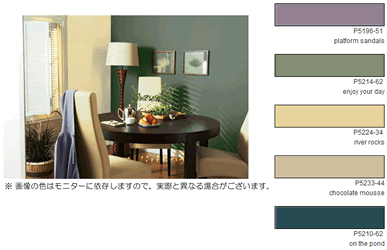 In lieu of Sico Ecosource, we introduce you PARA Essence now. Acrylic latex paint, PARA Essence complies with the highest safety standards by being zero VOC (Volatile Organic Compounds), an inimitable color variation and cut the smell by being zero VOC. It is an ultimate water-based paint that has both high safety and easiness to use. Essence contributes to a healthy indoor environment without compromising indoor air quality or durability. Ideally suited for schools, hospitals, nursing homes, nurseries, public buildings or where occupants may be sensitive to residual paint smell. Finish the interior wall with beautiful paint instead of the vinyl wall paper (Most of wall paper made of polyvinyl chloride).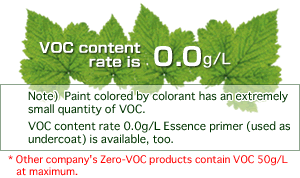 Use for the interior wall and the ceiling, and suppress the adhesion of dirt, although flat finish. This major technological innovation makes ESSENCE the ideal choice for hospitals, commercial buildings and other public spaces that must remain open during renovations. If the semi-gloss finish ESSENCE (Product code:6300) is used for the window frame and interior moulding, the work got finished luxury.
Human-friendly and earth-friendly highest level VOC content rate is 0.0 g/liter. However, colorant has an extremely small quantity of VOC, when you choose a colored paint. If you need the highest safety, White color is recommended.
More than 2,400 colors variation
Not only for professional, good working efficiency that everyone can paint.
Easy to maintenance. The beauty revives when repaint it.
ELITE SUEDE Interior (Old Name: Ultra Suede)
Product code:4000
more >> Elite Suede >>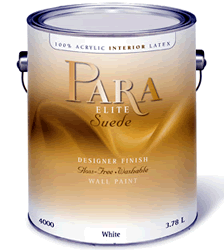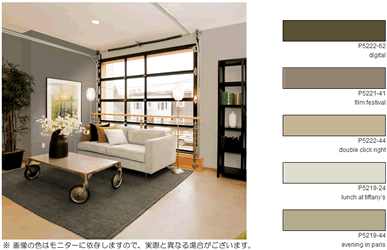 The highest class 100% acrylic latex formula. Do you think wall paper is the only method of finishing interior in Japan? PARA proposes you the interior that finished by paint.
performs like a semi-gloss, but with matte finish like suede
gloss-free, washable
durable, stain resistant
ideal for walls: hallways, living rooms, bedrooms, dens
Always more than 2,400 colors are available.
High working performance. Everyone can paint easily.
Safety efficiency against the sick building is higher than Japanese paint. The highest level VOC content rate is only 27.0 g/liter.
Maintenance is only wipe with wet cloth. It is beautiful to paint repeatedly.
ULTRA SEMI GLOSS Interior
Product code:8300
more >> Ultra Semi Gloss Interior >>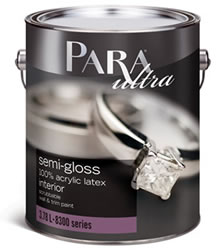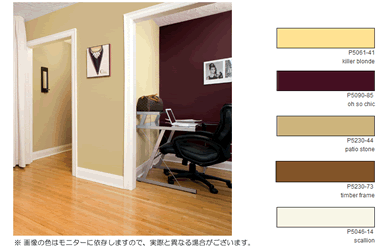 Interior Latex Semi-gloss finish
100% acrylic latex formula
scrubbable, stain resistant
high hiding, low odor
ideal for high traffic areas, kitchens, bathrooms, doors and trim
VOC content rate is 95.2 g/liter
PREMIUM Primer Interior
Product code:5799
more >> Premium Primer >>
Hi-hide Latex Primer-sealer
High hiding, super sealing
Sealer for new drywall, dry plaster or previously painted porous surfaces
can be used as under-coater on wood trim
VOC content rate is 97.0 g/liter
SUPER STICK Primer Interior & Exterior
Product code:777
100% acrylic latex formula
super adherent, high hiding
good alkyd to latex conversion primer
use on new wood, drywall, dry plaster, and previously painted surfaces
VOC content rate is 42.0 g/liter
If you want to block smoke stain or dirt on surface, use special primer "BLOCK-OUT」" VOC content rate is 137.0 g/liter.
TIMBER CARE Exterior
Past natural oil-paint had the fault that that the life is short and the paint film cracked by the respiratory effect of the tree. This "PARA Timber Care" solves the fault.
"PARA Timber Care" is 100% Water Acrylic latex paint same as other PARA paint for dry wall, therefore the hole of the micro that opens on the paint film helps breath of the tree, and there is not peeling off of the paint film either.
This Timber Care has durability for five years when it paints two times or more.
Moreover, "PARA Timber Care" assumes exposing to wind, rain, and ultraviolet rays. "PARA Timber Care" has the waterproof and the ultraviolet rays-proof performance, the crack of the tree and the warp by the water pickup are suppressed to the minimum.
ACRYLIC RAINCOAT
Product Code: wb223 color: Natural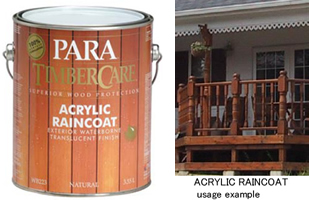 Raincoat Translucent Wood Finish
100% acrylic latex formula
Water repellent and UV protector
Natural tone
can used on siding, trim, fences and decks
VOC content rate is 217.0 g/liter
SIDING & FENCES
Product Code:WS34 color: White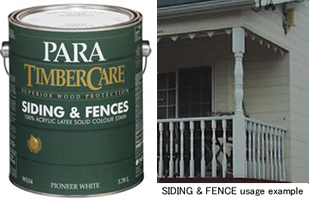 Solid Color Wood Stain
100% acrylic latex formula
water clean-up
hides color of wood, but shows texture
can used on siding, trim, fences and decks
VOC content rate is 364.0 g/liter
We provide two types of paint for exterior wood;
ACRYLIC RAINCOAT Product Code: wb223 Color: Natural Translucent
SIDING & FENCES Product Code: WS34 Color: White
These paints protect all outside wooden parts; the wood deck, the wooden door, the molding, the porch pillar, and the fence, etc.
Healthy safety performance is as preeminent as other PARA paints, it is scentless too. (Zero Formaldehyde Formula)
ULTRA SEMI GLOSS Exterior
Product code:7500
more >> Ultra Semi Gloss Exterior >>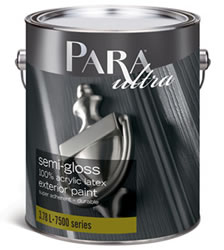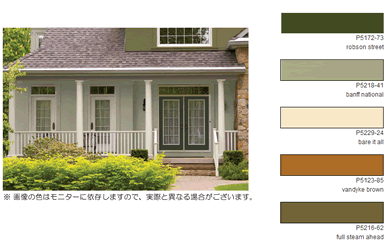 100% acrylic latex formula
super adherent, durable
non yellowing, stain resistant
ideal for doors, trim and pre-finished siding: steel, aluminum, vinyl
VOC content rate is 137.0 g/liter, even though in exterior